My Life
January 28th, 2006
We just celebrated my dad 65 years old birthday! Happy Birth Day Daddy!
I know my dad is not going to read my blog, I just wan to share my happiness with all of you.
Actually my dad's birthday is tomolo (Yes, 1st day of chinese new year!), since everyone at home and we wan to have the cake fresh so we just celebrate it today! U know what? I only get to know tat my dad is borned during the World War 2 just now. (wat a bad son!). WOW, i bet my dad go thru all the suffer during that time. but anyway today is already 2006, i wish my dad has a more happy life time in the future!
Pictures below: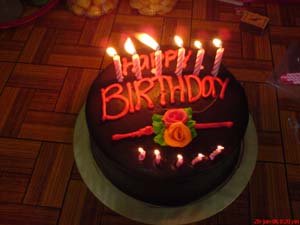 Yes, it's 65 years old.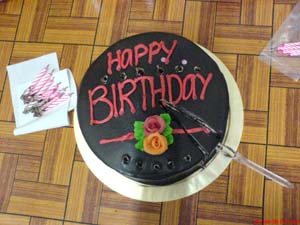 Can you guest what cake is this?
Yup, it's Secret Recepi's Chocolate Banana cake!!!
2 Responses to "Dad's birthday"
Dino Says:
January 29th, 2006 at 10:36 am

yummy… it looks delicious..

SoGua Says:
February 3rd, 2006 at 10:33 am

tis cake really nice. but i think too much banana liao. i dun really like banana so much so a bit obelad for me :p
Leave a Reply